Starting Chicken Farm Business
With so many people eating and having chicken for breakfast, lunch, and dinner, you don't need to be a college graduate to figure out that there is a huge demand for chickens.
Facebook
Tweet
Google Share
LinkedIn
Pinterest
Email
Demand is huge but the supply can barely keep up. Fortunes are made by huge chicken farms. This chicken business article will help get a piece of the pie.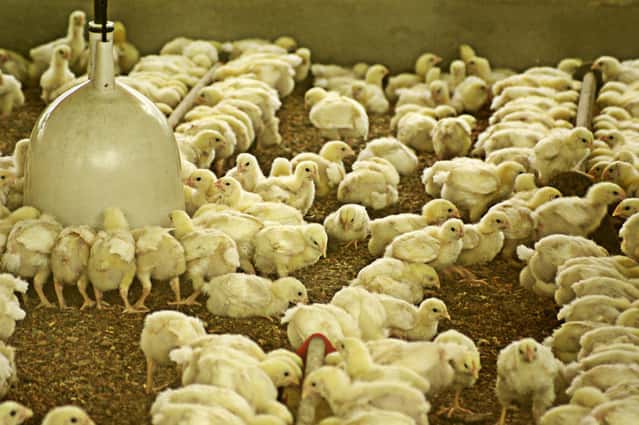 Learn about chicken
Eating chicken and raising chicken are not the same for your information. So if you are thinking that it's as easy as eating a drumstick, I think this business venture is not for you. First of all, chickens will eat about anything so you do have to consider sanitary measures otherwise it just becomes really gross to think about. So yes, learning about chicken include what they eat, how long they lay eggs, their life span, and how to care for them in different stages of their life. Find some books and ebooks on the web on how to raise chickens. Grab a book and read about them. Try to raise a few before setting up a farm is not a bad idea.
Decide what breed of chicken you want
After you have read a few things about chicken, reflect on what goals you have for your farm. Make sure you have the right chicken breed to match your goals. A black leghorn chicken for example will lay more eggs than a white leghorn chicken can ever make. However because the breed is of stronger descent, further fortifications are needed to accommodate such chickens.
Similar Articles
Find a reputable chicken supplier
Order your baby chicks from a trusted dealer. Try searching the web for such dealers. There are literally hundreds of them to choose from. Better yet ask another chicken farm owner where he gets his chicks from. Get a second option about such matters. Read chicken farm reviews and visit supplier farms with high-rating practices. Get way ahead of competitor chicken farms by getting good sources of baby chicks.
Plan a budget for your operation
Calculate and make an intelligent estimate of how much it will cost you to run a chicken farm operation. You will need to account for weekly expenses for feeds, water systems, and heat for younglings. Get additional funding for your start-up chicken farm expenses by soliciting help from close friends and relatives. You may also want to get a bank loan just in case. Your expenses will depend on how huge you want your operation to be.
Location for chicken farm
Find an area where you can build a chicken coop. If you have a small parcel of land, begin with a small coop. A bigger coop may mean purchasing a bigger lot area which may entail doing business with a real estate broker. The choice is up to you.
Gather your chicken farm supplies
After you have solved where to get your chicks, get supplies you can use for your chicken coop. Also, find a dealer for your chicken feeds. Again search the web for different types but a good way to know what type to buy is by consulting a veterinarian. Your chickens will need a doctor to check on them and vaccinate them too so a vet can not only recommend vitamins and other supplements but what feeds to buy as well.
FAQ
Q. What is the equipment required for chicken farming?
A:
Chicken feeding and watering equipment
Chicken processing machinery(if you want to set up a processing unit as well.)
Chicken waste disposal equipment
Disease and pest control equipment
Incubating equipment
Here is a Demo Video for Raising Meat Chicken from Start to Finish
Recommended Articles
How to Raise Laying Chickens
Raising laying chickens must be encouraged not only for purpose of individual interest but also for financial ones. Yes, you read it right! These eggs must be placed into sale because it will be an income generating activity. Hatching the eggs, refrigerating it and then placing it on a tray, giving it to stores or in the supermarket for purposes of business... Then boom! It is a success!
Tips to Build Chicken Pens
If you are looking for the best way to get your chickens laid healthy and good eggs on a regular basis, you must invest and build the best chicken pens for them. Building chicken pens can definitely give you a lot of eggs regularly especially if you need this for your business.
951 Comments
Jestin James
Startup Biz Hub - Senior Advisor (Staff)

+233 272261483 || patrikkufor2@gmail.com || Consultant
Comment
Categories
Popular Articles