Starting a Catering Business
This article gives you an overview of the catering business. Learn more about the ins and outs of the catering profession.
Facebook
Tweet
Google Share
LinkedIn
Pinterest
Email
The demand for a good catering service is constant which means caterers are needed almost everyday regardless of the season.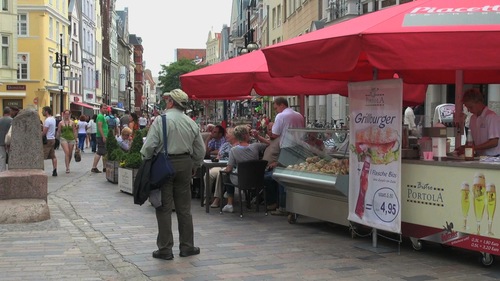 Even to this writing, somewhere out there is a company function or a family event or a social gathering taking place. Trust that whenever occasions such as these transpire, you will find a catering team busily running about the venue.
As a caterer, your main responsibility is to plan, propose and prepare a menu consistent with your client's preference. You need to put careful thought to this. There are several things to consider when preparing a menu. You should see to it that the food fits the occasion. Usually, events are themed so you need to be creative with your food selection. To keep up with the trend, you need to arm yourself with knowledge. Read, read, read! There are tons of resources available from cookbooks to the internet to magazines.
Another thing to consider is the client's budget. Naturally, you should work within it. Don't cook up something that would eat away your profit. It's easy to get carried away at first. Those new to the business are often compelled to impress their clients to a fault. They go overboard at times, spending way too much on the ingredients and use more than what is required. Don't get the impression that you need to pull a quick one on your client. You don't but you do have to be prudent and practical. You must learn the art of preparing food that taste good and looks good but in reality is relatively cheap to make.
Begin at the beginning
The first thing you need to accomplish before putting up your catering business is to find out what are the regulations mandated by your local Health Department. Make sure you acquire all the requisite permits and inspection certificates. If you don't brace yourself for headaches to come.
Look for an industrial sized kitchen that will fit your requirement. Then if the size of your operation demands it, hire the services of a competent chef. Next, plan a set of menus. Take note, you will be using these menus constantly so avoid dishes that make use of hard to find or seasonal ingredients.
Choose a market niche for your business. This will make life easier for you because it will taper the factors you have to consider. Having a market niche allows you to focus your attention on a refined set of preferences. Remember, the market is vast and varied and you can't have them all especially if you are just starting out.
Finally, generate clients for your business. Devise a marketing strategy and plan on which mode of advertising you wish to use. You can make avail of the tried and tested no to mention inexpensive "word-of-mouth" advertising. To do this, you have to make it known (initially in the community where you belong to) that you're in business. You may also want to promote your business through the internet via a website.
20 Comments
Comment
Categories
Popular Articles