Watermelon Growing Tips
If you want to grow watermelon, you will need to know some great tips. Knowing the growth requirements will allow you to ensure the health of your plant. Choose a sandy land area with plenty of sunlight and water.
Facebook
Tweet
Google Share
LinkedIn
Pinterest
Email
If you can provide the vital elements, your watermelon farm will prosper.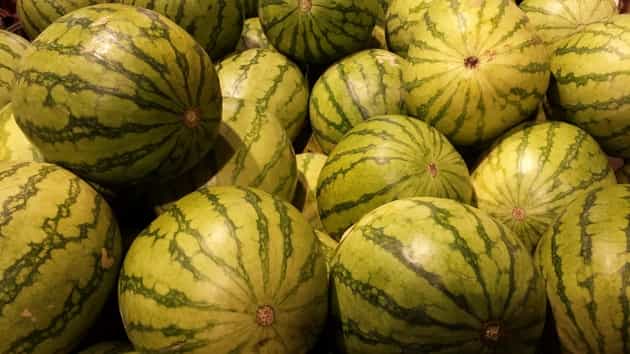 If you want to start your own watermelon farm, you will need to choose the most suitable land space. Watermelon can occupy a lot of space and so having a large land space is ideal. The vines will surely spread out and will require considerable maintenance over time. With the basic knowledge in growing such fruit, you will surely succeed. Aside from the land, you will also need to have a steady supply of water. Chlorinated water is not advisable and it's best to use well water instead. These are just some of the things you need to address if you want to grow healthy fruits.
Watermelon Farming Tips
Seeds can be planted when the temperature is at mid 70s to 80s. Don't plant when the ground has snow because even the so called hybrid varieties won't be able to tolerate the extreme cold. Watermelon will grow best in sandy soil. You also have to feed the plant with organic fertilizer or you can also use aged cow manure and chicken litter. The plant loves sunlight. Make sure that you plant the seeds on an area where there is direct sunlight. If you're planting the non-disease resistant varieties, never plant them in shady areas since it can lead to disastrous effects.
Similar Articles
The more watermelons you plan to grow, the larger the land space and water supply you need. To ensure healthy varieties, you should get the disease resistant ones. Always check the package of the seeds just to be sure. You can visit the local nursery and the professionals can provide you with helpful tips. If you follow the growth requirements, each vine can have around two big fruits. When the land is leveled with ground water, you can be sure that the plant will get enough water.
The land area should be plowed before planting the seeds. Dig a hole that is 1.5ft wide and 1ft deep. Inside the hole, you need to place fertilizer or cow manure. You can cover it with sand. Place the seed on top of the sand and push it to about 0.5 inch deep. To ensure germination, the seeds should be covered. You need to dig out a ring around the hole until it looks like a volcano. This is important so that water will be directed to the plant. Water the vines early in the morning; just put enough water. When the vines bear fruit, you have to take good care of them and watch out for sigs of diseases.
Recommended Articles
Kaju Farming
Interested in cashew farming? If so, then follow the tips mentioned in this article to guarantee the success of your kaju farming venture.
Things to Know about Jute Farming
Jute farming is not a complicated task. Once you become familiar with this, you can get more money in an instant. It is just a matter on how you use your skills and cultivating methods to harvest more jute plants.
482 Comments
wanyoz@gmail.com, +254 725812827 || Watermelon Farming Consultant

wanyoz@gmail.com, +254 725812827 || Watermelon Farming Consultant

wanyoz@gmail.com, +254 725812827 || Watermelon Farming Consultant

wanyoz@gmail.com, +254 725812827 || Watermelon Farming Consultant

wanyoz@gmail.com, +254 725812827 || Watermelon Farming Consultant

wanyoz@gmail.com, +254 725812827 || Watermelon Farming Consultant

wanyoz@gmail.com, +254 725812827 || Watermelon Farming Consultant

wanyoz@gmail.com, +254 725812827 || Watermelon Farming Consultant

wanyoz@gmail.com, +254 725812827 || Watermelon Farming Consultant

wanyoz@gmail.com, +254 725812827 || Watermelon Farming Consultant

wanyoz@gmail.com, +254 725812827 || Watermelon Farming Consultant

wanyoz@gmail.com, +254 725812827 || Watermelon Farming Consultant

wanyoz@gmail.com, +254 725812827 || Watermelon Farming Consultant

wanyoz@gmail.com, +254 725812827 || Watermelon Farming Consultant

wanyoz@gmail.com, +254 725812827 || Watermelon Farming Consultant

wanyoz@gmail.com, +254 725812827 || Watermelon Farming Consultant

wanyoz@gmail.com, +254 725812827 || Watermelon Farming Consultant

wanyoz@gmail.com, +254 725812827 || Watermelon Farming Consultant

wanyoz@gmail.com, +254 725812827 || Watermelon Farming Consultant

wanyoz@gmail.com, +254 725812827 || Watermelon Farming Consultant

wanyoz@gmail.com, +254 725812827 || Watermelon Farming Consultant

wanyoz@gmail.com, +254 725812827 || Watermelon Farming Consultant

wanyoz@gmail.com, +254 725812827 || Watermelon Farming Consultant

wanyoz@gmail.com, +254 725812827 || Watermelon Farming Consultant

wanyoz@gmail.com, +254 725812827 || Watermelon Farming Consultant

wanyoz@gmail.com, +254 725812827 || Watermelon Farming Consultant

wanyoz@gmail.com, +254 725812827 || Watermelon Farming Consultant

wanyoz@gmail.com, +254 725812827 || Watermelon Farming Consultant

wanyoz@gmail.com, +254 725812827 || Watermelon Farming Consultant

wanyoz@gmail.com, +254 725812827 || Watermelon Farming Consultant

emusvutisa@gmail.com || Watermelon Farming Expert

wanyoz@gmail.com, +254 725812827 || Watermelon Farming Consultant

wanyoz@gmail.com, +254 725812827 || Watermelon Farming Consultant

wanyoz@gmail.com, +254 725812827 || Watermelon Farming Consultant

wanyoz@gmail.com, +254 725812827 || Watermelon Farming Consultant
Comment
Categories
Popular Articles