Starting Your Own Flower Farm Business
Perhaps you have been enamored of the lucrative nature of flower farms, or you simply just like the grow flowers and wish to earn money from it. You don't need to read any other guide, because this article has all the information you would need to get your business up and running in no time.
Facebook
Tweet
Google Share
LinkedIn
Pinterest
Email
Flower farming has become one of the more popular businesses nowadays. It is not unusual to find a small flower farm in the backyard of someone.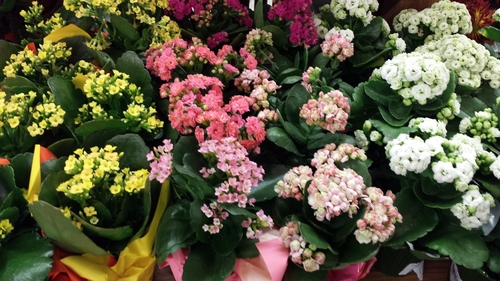 This is because, aside from the money-making opportunities, having a flower farm at your home can add beauty and color to your residence.
Here are few things to remember when you finally decide to start your own flower business:
Your Flower Farm Should Be Organic
Your products should be natural, which means you use natural pesticides instead of chemicals to get rid of pests. These chemicals may actually damage your flowers instead of helping them. It's easy to come up with a natural pesticide solution instead of opting to buy the chemical ones. Use natural predators, like praying mantises and ladybugs. These insects prey on the natural pests of plants, so with them in your farm, you have a natural and effective pest control.
Grow As Wide a Variety of Plants
It can help to have a wide array of plants that you can offer, from the most common to the outrageously exotic. You can experiment and come up with new developments as well. It would be beneficial if you maintain a semblance of uniqueness in your offerings, because it will make you stand out amongst your competitors and thus get you noticed easier by flower lovers.
Similar Articles
Exhibit Knowledge about Your Flowers
Your customers would be more impressed if you show them that you know a bit more about the flowers than just their names and colors. For example, a good knowledge about the history of as much flowers as possible would show good you are about plants and flowers. This would lead to more trust that you take good care of your flowers and that every order you get is supplied quality products.
Keep Freshness in Mind, But Offer More Than Just Fresh Flowers
Always make sure to keep your deliveries as fresh as possible. If the place you are delivering to is far away, delivering the flowers as buds ready to bloom would help to ensure that the flowers are still fresh when they get there.
Fresh flowers can sometimes go off-season, which means that demand for them will slow down and your profits can go down too. Sell anything else that has to do with flowers so that your inventory doesn't go stale. For example, you can sell dried flowers, or seedlings. You can use petals from dried flowers to decorate handmade greeting cards.
Recommended Articles
Growing Perennial Flowers for Commercial Purpose
Flower business is growing day by day, do you want to try your luck here? If you wish to start growing perennial flowers for business then read this guide to help yourself.
Tips on Growing Sunflowers
Sunflowers are easy to grow. If you have enough space and market for the product, it could be a business you can start. Find from our guide basic tips to start sunflower farming.
561 Comments
Raghunath Natarajan
Startup Biz Hub - Advisor (Staff)
Comment
Categories
Popular Articles