How to Start a Security Company
Improving people skills is the very foundation of establishing a security company; simply because you are in a business that deals primarily with people. Here are a few guidelines: brushing up on your people skills, stocking up on knowledge and training when it comes to security, completing all necessary paperwork and requirements, and checking your finances always.
Facebook
Tweet
Google Share
LinkedIn
Pinterest
Email
According to the American Society of Industrial Security 2006, security companies have been on a continuous 6% rise since 2001.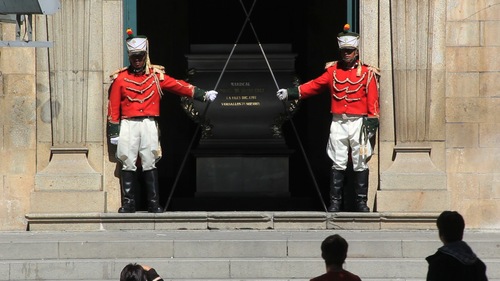 This finding really comes as no surprise; more and more people are eventually turning to private security companies for safety measures instead of relying on government-issued security forces. Different security companies offer both products and services, or in some cases, even both to their clientele. Products usually include crime prevention measures like alarm systems, lock systems, and surveillance systems. Protection services usually include bodyguard services, private investigators, and repossession agents. With all the issues of crime prevention in our society, starting private security has become a very lucrative trade.
Here are a few guidelines if you have decided to try your hand at establishing your own security company.
Similar Articles
First of all, you need to brush up on your people skills. Improving your skills in this area is the very foundation of establishing a security company; simply because you are in a business that deals primarily with people and you will be utilizing the services and skills of trained professionals. You must be discerning enough to know how to deal with your personnel (making them take the necessary requirements like psychological testing, background checks, putting them in areas where they most likely will excel, etc.); and how to deal with different clients and their varying security needs and issues.
Secondly, you need to acquire extensive knowledge and training in this kind of work. A good background in this field will help you decide what kind of security company you would like to set up because there are two kinds: one that sells products, and one that sells services. You can always combine both if you do have all the necessary requirements like financing, manpower, hardware, technology, etc.
Gone are the Hollywood days when "thugs" and "punks" on the streets suddenly become full-pledged bodyguards and security experts – or at least, the ones who carry on legal services. Federal law dictates that background checks, licenses, permits, policies, restrictions, and all other pertinent requirements are met, for both your company and your working personnel - before you even endeavor to open a security company. These checks are necessary because some of your personnel might be required to carry firearms as protection. Constant training and re-training, and having a broad scope on the different security issues will help establish your company for its efficiency. Security is a tricky business because nothing ever goes according to book descriptions. Every case is different, and there are several ways of handling them. Being always on your toes ensures your clients' protection and this in turn, safeguards your company's reputation.
Financing, as most businesses go, is the building block of your prospective security company. Enough finances can get you your own office space, can train your personnel, can buy necessary firearms and hardware, can fill out the required paperwork, and can help advertise the services of your company to interested parties. If you are on an extremely limited budget, you may want to decide first what kind of security you may want to provide and who will be your intended market; and probably stick to your initial goals until you actually make enough to expand.
Remember that even if you have a 2-man security operation as PPO or private patrol operator, your personnel still has to undergo substantial training, frequent re-training, has the possibility of carrying firearms in the line of duty, has to be covered by insurance, etc. – and all these entail financing.
Recommended Articles
How to Start a Security Agency
Do you have experience in providing security services? How about starting your own business guarding homes, offices, malls, and schools? Learn how from our basic guide to opening this business.
Open a Security Guard Patrol Service Business
Starting a Security Guard Patrol service business entails compliance to governing laws and regulations, that's why before entering such business, you have to learn the entire needed requirement in order to successfully open such business.
473 Comments
Comment
Categories
Popular Articles