How to Open a Liquor Store
Some of the fundamental requirements when it comes to opening a liquor store include: completing all paperwork, choosing what kind of store you want to set up (franchise, self-owned, or part of another store,) acquiring a list of licensed liquor suppliers, and setting up security measures for your shop.
Facebook
Tweet
Google Share
LinkedIn
Pinterest
Email
Liquor stores aren't as easy to start as most other businesses.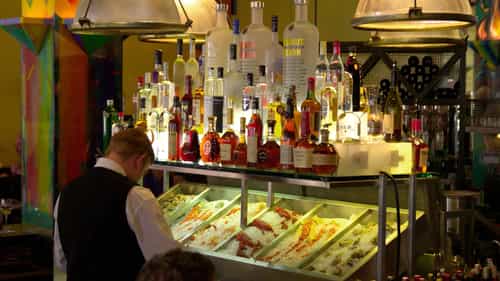 Surprisingly, before you can even sell one bottle of liquor at your premises, you have to deal with cases upon cases of paperwork. Yes, paperwork – meaning you have to do lots of legal work on your own. If it is feasible, you need to retain the services of a lawyer to help you work out some fundamental issues of this business like contracts and zoning issues.
Like all legal things, you need to inquire about federal laws, state laws, city laws, and county restrictions, not to mention zoning laws in your vicinity. A good lawyer can save you a lot of time and effort when deciphering these laws, and he can point you in the right direction should zoning issues about your liquor store become problematic. You need to find out also when you can actually sell liquor to your patrons. Different states, cities, and counties have different restrictions as to the time any liquor store in their jurisdiction can sell its products. Non-compliance with the laws is considered a criminal offense.
If hiring a lawyer is not an option as of yet, then at the very least, you have to research all about liquor restrictions via the Internet before actually investing time and money into the venture. However, it should be stressed that hiring the service of a competent lawyer is really necessary when you are opening your own liquor store. If all systems seem to be working in your favor, you then must acquire your licenses and permits for your business – and these should be prominently displayed in your store at all times.
Similar Articles
Your second option is choosing what kind of liquor store you actually want to set up. Establishing your own store under a name you have chosen for yourself is one option. Buying a franchise for an earlier established liquor store is another option. Setting up a part of a shop (say a small grocery store) with a few supplies of liquor is another option. Choosing from one of these three options involves many things like budget, space, and location, to name a few. One of the perks of buying a franchise is that the franchising office actually gives you a list of their liquor suppliers.
If however, you should decide to "wing it," your next viable step is to get a list of suppliers for your liquor. This course of action also ends up with a pile of paperwork, and it would benefit you greatly to know all about alcoholic beverage laws for retailers and licensee responsibilities. You cannot under any circumstance just buy liquor anywhere because there will be periodic checks made by Alcohol and Tobacco Enforcement Agency. You also need to keep receipts from your sales and other invoices should the agents or police ask for them during these checks. Non-compliance with the Agency and its representatives can be considered a misdemeanor.
You also have to consider the safety of your store personnel and the security of your liquor store. Liquor stores are, without a doubt, one of the most targeted stores for crime – you need to consider with utmost care how you are to protect your investment. Installing high-tech gadgetry and posting security personnel in and around your store are options you may want to enforce, but vigilance is always the key to thwarting those who are most likely to attempt a hold-up or outright thievery.
WSJ Story, Know What Lessons She Learned by Opening a Wine Store
Recommended Articles
245 Comments
Jestin James
Startup Biz Hub - Senior Advisor (Staff)
Comment
Categories
Shop Business Ideas
Store Business Opportunities
Service Business Ideas