Ginger Root Farming
Ginger root farming is very simple and can even become a lucrative business when you know the most essential things that need to be considered. Similar with farming other herbs, the success of your venture will greatly depend on how you took care of your plants and if you have followed the proper way of cultivating them in order to produce more crops at the end of the growing season.
Facebook
Tweet
Google Share
LinkedIn
Pinterest
Email
Ginger is an herb that grows from a kind of spreading and tuberous rhizome. This prospers well in fertile and moist soil in places with warm winter seasons.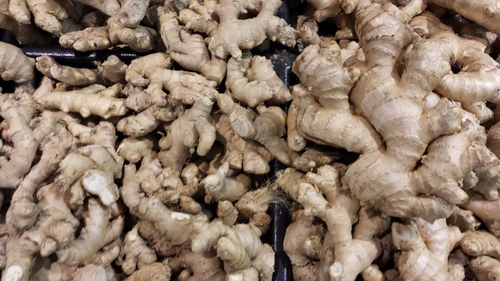 You have probably seen ginger in grocery stores and you might have become curious as to how this is actually grown and cultivated. Well, ginger root farming is pretty easy and there are only several steps that need to be followed.
Choosing Your Root Stock
Ginger comes in numerous varieties but if this is your first time to get your hands on this kind of farming, the best thing that you can do is choose your ginger stock from your local grocery. From this stock, you can expect for plants that are attractive and hardy, possibly producing tiny yellow if not red flowers. Search for big root pieces which are fat and shiny with small horns or nubs on them. Start to plant your ginger in a huge but shallow pot with equal parts of potting soil and sand. Lay the rooting pieces in horizontal way then put them 2 to 3 inches apart around the pot's center. Cover this with 3 inches of soil. Ginger prefers growing in the light of the morning and the afternoon's dappled light. When sprouting, see to it that the roots will be equally moist.
Once the sprouts start appearing, you will notice small parts of the root that poke out of the soil. Once the root becomes visible, you will find it easier harvesting the tiny segments once the plants get matured. Never harvest the ginger for one season as this will let the plant to have a good start in your life. Usually, ginger does not take off not until this starts getting crowded inside the pot, so you can expect for a modest growth within the initial year.
Placing the Plants Outdoors
The moment you got plentiful set of ginger shoots, put the plants in an area with good shade outside within a few hours every day after temperature overnight rises to more than 50-60 degrees Fahrenheit. Within four days, you can increase the specific time when the plants are left outside then put the pot in a permanent shady location outside. Always remember the three essential things and that is ginger will need to have gentle sunlight to light shade, constant water and will never tolerate the freezing temperatures. Put all purpose fertilizer to the plants two times during growing season.
Ginger Root Farming in Cold Seasons
When fall comes, place the pot inside and put in an area where room temperature is more than freezing. Let the plant's top turn yellow then trim these off. Have the soil moistened once every month so that the roots will stay viable. During spring, when all frost threats have passed, put the pot outside in a warm and shady area then watch for brand new ginger shoots set.
Harvesting
Once the root nears the surface, there will be tiny nobs that can be seen at the plant's soil line that can be chosen to be used for culinary purposes. You can start to harvest during the season's fourth month then pick the roots that are around the pot's outer edge. When growing season ends and the leaves are starting to fade, the plant can be uprooted and take a bigger harvest, depending on what you want. Then, have the ginger replanted for future harvest.

2 Comments
Comment
Categories
Popular Articles