Bitter Gourd Farming
Bitter gourd is a perennial plant native to the country of the Philippines which it locally known as ampalaya. The plant can be grown at any time of the year and is primarily cultivated for its fruits and shoots. The bitter gourd is known to be good source of vitamins and minerals.
Facebook
Tweet
Google Share
LinkedIn
Pinterest
Email
Bitter gourd farming can be a good business as it can be in small and large scale and is not very hard to cultivate but with good yield.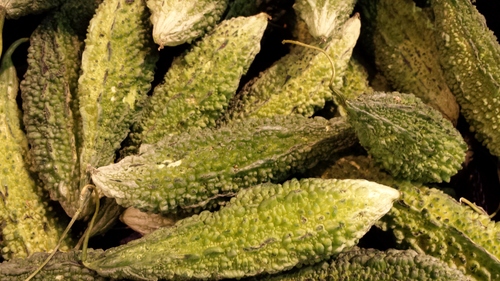 The bitter gourd is one of the most popularly grown vegetables in Asia and India. Known in many names, it is extensively grown in many parts of the world because of its exceptional health benefits. The fruit, however, tastes bitter because it contains 'momordicine'. Nevertheless, bitter gourd farming is quite the demanding and valuable industry.
Climate Preparation for Bitter Gourd Farming
The bitter gourd grows anytime of the year but it is mainly a crop for warm season. It specifically likes the hot but moist weather conditions. The temperature range for the best of the plant's growth would be about 25 degrees Celsius to 30 degrees Celsius. The plant is expected to yield better if planted in a well-drained soil with soil texture if either clay loam or sandy loam. The pH range of the soil should be between 6.0 to 6.7 rich with good organic matter.
Land Preparation
When it comes to bitter gourd the land is recommended to be ploughed about 2 to 3 times until the soil becomes fine and should be weeded. Although bitter gourd can be raised at any time of the year, the best season would be from January to March as well as September to December. Generally, about 5 to 6 kg of seeds are used for 1 hectare of land but it depends on the variety that is being grown.
Similar Articles
Seed Preparation
For direct seeding, the seeds have to be soaked in water overnight or wrapped with moist cloth in order to increase germination. When planting, put 2 to 3 seeds in each hill approximately 30 cm apart. The furrows should also be 30 cm apart making it 30cm x 30cm. Once the seeds are planted, cover it with just a thin layer of soil and the sprinkle with water.
Sowing Process
After sowing at about 3 to 4 weeks, weed the bed and remove the weak seedlings leaving only those that are healthy. In order to gain higher and good quality yield, there should be proper and regular application of manure. On the other hand, irrigation has to be done about 3 to 4 days of interval while at the initial stages of its growth. But if the soil has sufficient irrigation or it is rainy season, the plants do not need regular irrigation. Weeding operation as well as raking of the soil is important after application of fertilizer in order to ensure o f a good yield.
Recommended Articles
Easy and Effective Breadfruit Farming Tips
Since breadfruit trees have the highest yielding fruits, you can have a chance to earn huge income every season. Planting these trees is very fast and simple. Simply follow the do's and don'ts to achieve positive results.
Learning More about Cowpea Farming
Learning more about cowpea farming is essential in order for cowpeas to grow well, thus expecting for a much better yield in this farming is never impossible.
Comment
Categories
Popular Articles