Jet Ski Rental Business
Starting a jet ski rental business entails only 3 things: location, equipment, and know-how. You might know that "know-how" includes everything from knowledge, operation, marketing, sells and more. You might find this article on how to start a jet ski rental business is a great help to you.
Facebook
Tweet
Google Share
LinkedIn
Pinterest
Email
Although it may seem uncomplicated, putting up the jet ski business is rather difficult. First of all, not many places in the world can actually benefit from having a jet ski rental business.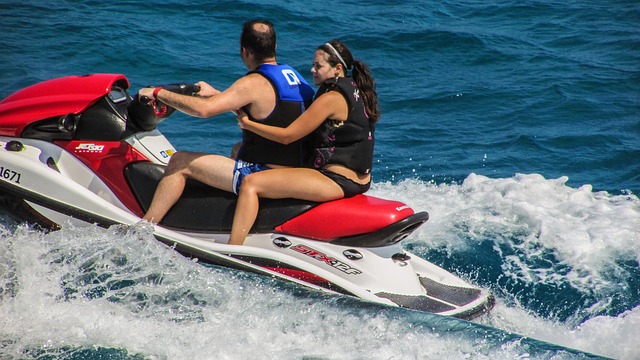 Unless you can find a proper location for your proposed enterprise, the basis for putting up this jet ski rental service business is moot. Sure, you can put up a jet ski rental business anywhere, but would you have patrons coming out of the woodwork for you? Not likely.
The key to finding a great location for the ski business is finding a place where water sports are in demand. Not all open bodies of water are jet ski locales; there are protected waterways or shallow waters with a network of corals or marine life habitats that are not only dangerous to run the jet boats in, but also against federal and environmental laws.
It might be wise to check your local geography first and update yourself with local, regional and environmental laws before plunging headfirst into jet ski rental services. If your chosen "spot" has its share of water sports machinery for rent, it is still advisable to check laws and regulations. You wouldn't want to have the rug pulled from under you just because you neglected to research your "spot" first. After all, setting up a jet ski rental business is rather pricey.
Similar Articles
And that leads us to the reason why a startup jet ski rental business is indeed expensive. Startup kit for jet skis are expensive on its own, and so in repair, maintenance, and its fuel. In order to have a respectable income, you need to have at least a couple of these Yamaha jets working simultaneously. It is also advisable to get brand new jet skis, because second-hand (or even third-hand used jets) machines may save you a couple of hundred dollars on the initial sale, but will drain your accounts from jet ski maintenance and tune-ups.
How much does a Jet Ski Costs?
Brand new jet skis range from about $4,000 to $30,000, depending on the make and model of the machine and local jet ski dealers. Plus, jet engines need regular tune-ups as well. If you think the expenses end there, you may want to consider getting insurance for both your jet ski machines and your customers. Think of it as a car rental sort of transaction, only that your jet ski boats run in water, and if accidents do happen, it's very likely that you will need the services of a specialized towing company (if you are lucky).
Having enough knowledge to run a jet ski rental business venture is imperative. You need to know just what your potential market is, how powerful the jet engines you can buy, whether you can market your jet ski rental business only to the experienced, what to do during emergencies, etc.
Before that, you must also check on the environmental factors around you like: when is it safe to rent out the jet ski 800 or 550, and when is it advisable to tell the potential customers off? You also need to set the demarcation line in the waters and advised your future patrons as to where they can safely go, and where it should be out of bounds.
Although some people might think that setting out a jet ski rental business can be likened only to putting up a rental shop for bicycles, you must remember that these are powerful boats, which is quite capable of upturning sailboats, ramming through speed boats, and crashing into docks and other physical barriers. If your customers don't sustain enough injuries during these kinds of accidents, it is with great probability that the water might claim them – and that, assuredly so, is never good for business.
Watch this Video to find some Tips to Start Your Own Jet Ski Rental Business and the Ways to Promote it
Recommended Articles
How to Start a Jet Ski Rental Business?
If you want to know step by step process to open your own Jet Ski rental business then read on. This article is about How to Start a Jet Ski Rental Business.
162 Comments
Comment
Categories
Popular Articles