How to Start a Papaya Farm
Papayas are an excellent source of nutrients and vitamins. And it's quite easy to grow them, if you're in a tropical or sub-tropical climate.
Facebook
Tweet
Google Share
LinkedIn
Pinterest
Email
The business is perennially flourishing and is even increasing in profit nowadays because people are beginning to be health conscious. So starting a papaya farm is a fruitful enterprise that you can rely on for constant profit.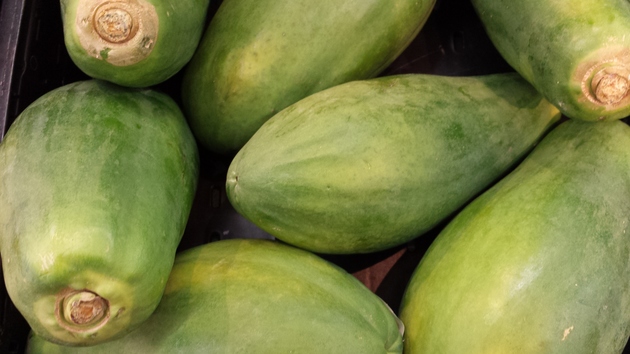 The papaya (fruit of Carica papaya) is a tropical plant usually grown in tropical climates such as Mexico, California or any of the equatorial countries. It is a popular fruit in those countries as they have numerous health benefits that have been proven and tested by various scientific researches and findings. The papaya business has been a perennial source of income for the farmers in the countries that grow them. It even had increased revenue when people started buying green products and foods.
Papaya Farm Clients
The most usual clients of the papaya farms are the people themselves. They buy papayas directly from the farms in the knowledge that those bought in the farms are fresher and healthier than those bought in the markets. However there is a niche in the papaya that papaya farmers usually tend to forget or haven't have had any access to. This niche is the medicinal industry. There are many companies that use papayas or derivatives of it to makes soaps, tablets, medicines and the like as an herbal supplement to foods. Although most business still has pending scientific adjudication on their products, it proves as a boom to the papaya industry. This niche alone contributes more than $100 million to the industry.
Similar Articles
Advertising Papayas
The papaya business, because of its silent popularity with the masses, doesn't really need much advertising. However, since you are to start a new business, it would be good to advertise at your local area first. Do it the traditional way, like flyers or free tasting of the papaya at the local markets. Advertise at the local newspapers.
Where to Start the Papaya Business
It is impossible for papayas to survive in climates that aren't tropical. That is why it is suggested simply that if you want to start the papaya farming, do it in a tropical climate, like California, New Mexico, Texas, or any of the adjacent states that don't have snow. If outside the country, do them in the tropical countries, like those in Southeast Asia, Central and Southern America. Location is a key factor in the papaya farming. Even though it may take you some time for the plant to grow, remember that the investment you give will be recuperated in a short time only, as the time it takes for the papaya to grow is significantly faster than the other farming plants.
Startup Cost of Papaya Farm
It doesn't take that much for the business to start. Your first asset to purchase is obviously the land, which must be good, so don't scrimp on the land. The price might be steep but remember that the land is very important for the plant. There are other costs, but one must remember that these will be recuperated in a short time.
Recommended Articles
A Simple Guide on Effective Techniques in Growing Arbi or Taro Roots
These are the essential steps you need to take before and during cultivation of arbi. By following these, you have a simple and yet effective guide in properly growing the plant. This way you can enjoy the starchy, sweet tuber of the plant popular in many countries in the world.
Guide to Jalapeno Farming
Jalapeno farming has become quite popular, they are hot peppers, requires excessive sunlight and moist soil for growth. They grow to 3 feet height on an average.
378 Comments
Raghunath Natarajan
Startup Biz Hub - Advisor (Staff)

Raghunath Natarajan
Startup Biz Hub - Advisor (Staff)

Raghunath Natarajan
Startup Biz Hub - Advisor (Staff)
Comment
Categories
Popular Articles