Starting a Greeting Cards Wholesale Business
In starting a greeting cards wholesale business you must first decide on what type of greeting cards you plan on selling. Plan on the tools you will need to create your card or if you will be purchasing them wholesale from a supplier.
Facebook
Tweet
Google Share
LinkedIn
Pinterest
Email
Several suppliers are more than happy to sell their extra items to you at a decreased price.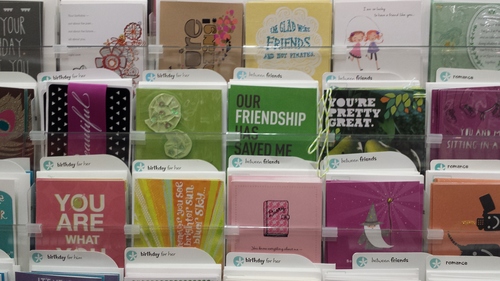 There are several different types of cards on the market ranging from those that are fancy with music and animation, to those that are simply printed out cardboard, then of course there are those types that are personalized, crafted, or made from recycled material or like those popular UNICEF cards made by children. There is also the option of making your own cards for sale.
Once you have chosen the type of cards you wish to sell, it is time to set up the tools you will need to create this cards, unless of course you plan of obtaining them from a particular supplier. Purchasing card or their respective materials wholesale will give you the chance to make a credible amount of income while you sell them at the standard retail price. It is best to make sure that the supplier (that is, if you haven't decided on making your own cards) has a vast array of cards to choose from. This way you will get to meet to the customers' specific needs.
If you plan on producing your own you will need to make several different types of cards before you open your business. The fact that you are selling cards wholesale means that there is a standard limit as to how many cards people purchase from you. It is up to you to set the minimum order requirements for your cards. Bear in mind that it is best to start at a lower number when starting a business. You can eventually work your way to more amounts once you have learned the ropes.
Once you have your greeting card stock it is time to advertise! You may have your very own store specifically showcasing your greeting cards or sell them to certain novelty shops and bookstores. Either way it is best to research in your locale to find out the best places to promote your products. Advertising your greeting cards online is also a good way to gain popularity for your business. Simply featuring pictures of your cards over a web page on the internet will help you garner the target audience you will need. Also you may find several stores online that may even be willing to purchase from you, your cards to sell at their stores! In this case you will also be selling at a wholesale price; otherwise you may start selling your own at standard retail price. Consider also how you will be taking orders and your preferred mode of shipping, especially if you have buyers that are outside of your local vicinity.
1 Comment
Comment
Categories
Popular Articles