Start Shoe Wholesale Business
Engage in one of the most stable businesses to start. Start a business supplying shoes wholesale to retailers. Learn what qualifications and equipment you need to start this business.
Facebook
Tweet
Google Share
LinkedIn
Pinterest
Email
Shoe wholesale business is one that someone with connections inside the industry can operate at home.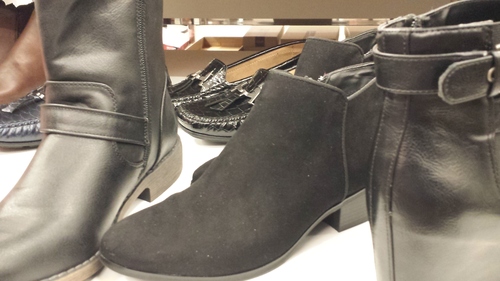 As long as the human race lives, there will always be a demand for shoes. That is why this is one of the best businesses to start. If you have worked in a shoe business, as a purchasing agent, salesman, or manager, this is an ideal business for you to start. This experience would have brought you business relationships that you can use to obtain that sometimes hard-to-come-by account with shoe manufacturers. If you don't have the business connections to start this business, you can opt to do the hard way by buying shoes wholesale in discount stores and closing outs.
If your experience in the shoe business is in sales and purchasing, you would have to learn more aspects of managing a business as the overall manager and owner of your own wholesale business. Enroll in a short business course to learn the basics of topics such as accounting, customer support, and client management.
Finding Wholesale Shoe Business Clients
Now to find entities to whom you will do business with. In the world of wholesaling, you would have to face retailers who already have established relationships with other vendors. And usually, these retailers are serviced by established distributors that you will find hard to compete with because of their scale and reach. A tactic in this kind of business is to serve the part of the market that was left out by these big distributors, probably because they are too small to have a profitable relationship with.
Just like in retail, in order to be successful, you must define your business well to stand out. Choose a line of shoes you want to distribute. Among the most popular and most basic are athletic shoes. You can also define your business as a wholesaler of women's, men's, or children's shoes.
Wholesale Shoe Business Equipment Needs
Your needs in this kind of business will vary depending on what wholesaling business you will be operating. If you will be the buy-in-bulk kind, you'd need to have a large startup capital to buy inventory, rent a warehouse to store your goods, and delivery vehicles to transport the items. If you will be working directly with manufacturers, you can save on these costs by employing a dropship service wherein your orders will be directly delivered to the retailer. This way, you won't really need a warehouse or delivery vehicle. You can just operate at home with a fax, telephone and computer with an Internet connection.

74 Comments
Comment
Categories
Popular Articles