Start Diaper Manufacturing Business
If you wish to know how to start a diaper manufacturing business then just follow your competitor?s product closely. Check out how they make and sell their product which gives them revenue and success.
Facebook
Tweet
Google Share
LinkedIn
Pinterest
Email
Create a proper strategy and have a marketing team that will make your presence felt in the local hospitals, clinics, and baby stores. Start diaper manufacturing business on a local level first.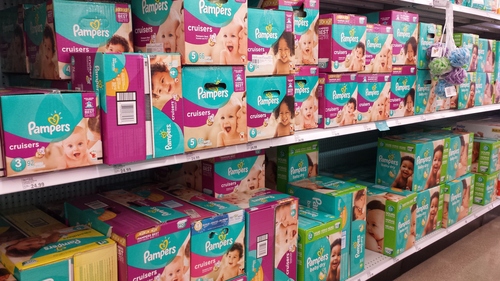 Diapers seem to have revolutionized the baby care industry because they are hygienic and helps to get rid of that dirty smell; of course, thereby keeping the baby's bottom clean and germs free.
Diaper Manufacturing Business
These days disposable diapers seem to have taken the baby world by storm. Almost all mothers want these for their newborns. Thus it seems but only lucrative to start a diaper manufacturing business. This is more so because of the increased fertility rate across the world. So, this is no doubt a lucrative business if you really wish to start. Also, there is lesser competition in this field as compared to other businesses. What you need will be trained staff and an effective management system followed by the perfect marketing team.
Things Needed for Diaper Manufacturing
What you need to take care of while starting the diaper manufacturing business is the effective implementation of the plan and an efficient strategy should be drawn beforehand. You need to know that your business will be successful only if the customers are satisfied and they trust your product. So, make sure you are offering them baby nappies that are hygienic and soft for the baby's skin. They are reasonably priced in terms of other diapers available in the market. You have to be equally conscious with regard to the functionality and availability of the product in different markets.
Being a new company you have to, first of all, make your presence felt in the market. Thus to start with, it is better to start manufacturing on a local level and thereon move on to the regional level in the future. It is important to create an implementation booklet and strategy plan with your goals properly written.
When you begin you also need to know of your targeted customers. This may include hospitals, clinics, and various wholesale traders who will make your product available in various baby stores. Building your image is a must in this field and hence instead of going in for-profits focus primarily on your product and the revenues will follow soon.
When you start with this business, you need to closely follow your competitors- how they are designing and selling the diapers. You have to understand what the needs of your local customers are. You also have to define your speed and as well as the technology available at hand and this should be within your budget too.
352 Comments
bharatj7588@gmail.com || Consultant

bharatj7588@gmail.com || Consultant
Comment
Categories
Popular Articles