Start a Wholesale Baby Clothes Business
In starting a wholesale baby clothes business, it is important that you construct your business plan so you will know how to start.
Facebook
Tweet
Google Share
LinkedIn
Pinterest
Email
Just like in any business, you will need financing to keep your products circulating in the right places.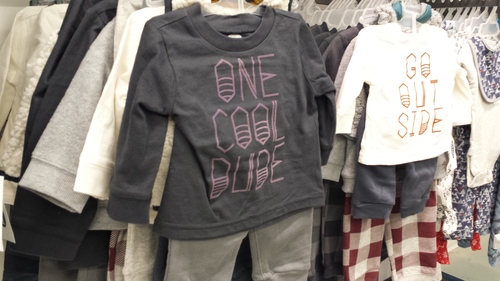 Baby clothes are very important in the list of baby's necessities. In buying these items, the parents must be very careful because the baby's skin is very delicate. You cannot just buy anything you see or think of. The health of the child is very important whenever you buy things for him or her. Aside from that, the cost is also of great importance because it generally affects how you will allot money for all of the expenses for your child alone. It could really help a lot if you can buy less expensive clothes for your baby. Normally, clothes are cheaper if they are bought in wholesale baby clothes stores. That is why starting a wholesale baby clothes business may be very beneficial for most or all of the people who ventured into it. It is an easy way to success because you will be catering for the most loved person in the family, and that is the baby. You will never go out of business as long as there are babies being born every second.
For you to start a wholesale baby clothes business, you would have to begin with your business plan. It is in this plan that you can realize the things you want for your business. Here, you can already tackle the investment costs, your target clients, products, services, mission, vision, and many more. As you see, these details are the major drivers of your business. In order for your business to operate, you must already have an idea what you want to see and to have in these aspects as long as you are being realistic about it.
The3 easier way next to the first step is searching for the place where you want to have your business.. Actually, if you are starting with a small budget only, just like other people, you van just start at your house. This is only ideal for beginners because it is still the adjustment period. Most places you can find for a business cost quite high. You cannot afford to splurge too much money on things when you are just beginning. But if you are already in need of your own shop, you can find good picks in commercial areas so you can be noticed right away by different people even those that are just passing by.
Next, it is time for you to conceptualize the name for your business. It must be something catchy and fitting for a wholesale baby clothes business. You must think of a name that is unique because you surely do not want to encounter any problem when you are already registering your business in your municipality. You will not be given the license to operate if there is another business of the same name. So you must be very creative.
Once you have registered you business, operational expenses will come to you left and right. For the prepared entrepreneurs, you can handle it just fine. But if your budget is quite limited still, then you can try going to the bank for a loan at the lowest interest possible. But if you think you cannot go by with that setup, you can always choose to avail a franchising opportunity somewhere.
102 Comments
Comment
Categories
Popular Articles