Pomegranate Farming Guide
Pomegranate is considered as one of the most wonderful fruits that are found in great quantities in lots of regions throughout the world.
Facebook
Tweet
Google Share
LinkedIn
Pinterest
Email
If you are interested in the plantation procedure of this plant, you have to know how to plant it and the steps on growing it as well.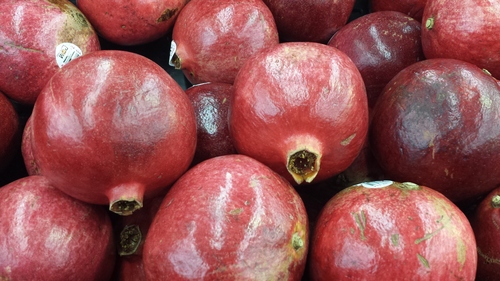 There are various questions on how to grow pomegranate have showed up quite often recently. The size of an apple fruit has now become a regular add-on in the fresh fruit section of any grocery store. The increase in popularity during the past years and witnessing the profusion of seeds that lie underneath the ruby skin is sufficient to make every gardener be inspired about growing pomegranate.

The History of Growing Pomegranate

Known as Punica granatum, pomegranate is among the fruit bearing plants, which is categorized as a deciduous shrub. This plant grows up to 5 to 8 feet tall. It is a native of the Asian continent and grows in Mediterranean tropical and sub tropical as well as monsoon regions. Pomegranates are essentially cultivated due to their tasty fruits. Also, the plants can be grown in gardens, not just because of its fruits but because of their attractive flowers as well.

In addition, because of its adaptability and size, a pomegranate is likely to have a strong growth in many areas of the world. In fact, it can be easily pruned in proportion to the available space of your garden and it can be prevented to overly grow. The fruits of the pomegranate and the pomegranate itself also have a few medical components. Since it is a shrub, the plant also makes an ideal garden plant.

How to Grow Pomegranate from Seeds?

There is nothing much to say about the ways to plant pomegranate because these seeds are known to voluntarily sprout without much help. The pomegranate seeds must be sowed in loose soil with around ½ inch of covering layer.

In addition, heat must be your second consideration in your pomegranate care list. The seeds will spout at a room temperature within 30 to 40 days. Make the soil temperature up a little degree and reduce this time in half. You can try enclosing your plant using a foil and put it in an area where it can receive direct sunlight until the seeds sprout.

The Baggie Method

This method is another means that should be considered when growing pomegranate. Many gardeners rely on this method when growing pomegranate. Soaked a coffee strainer and exclude the excess water. Dust the cleaned seed on 1 quarter of the strainer. Fold carefully the filter strainer into four and place it in a sealable container. Place in a warm place and container from time to time for germination. The moment the pomegranate sprouts, move them to a pot. Make use of a small pot that has good drainage and sow at least 2 to 3 seeds in each pot. You can remove the weak seedlings after several weeks and transfer them to other pot.

Caring for the Pomegranate

In order to grow a strong and healthy pomegranate, one must know pomegranate care. In the natural habitats of pomegranate, the alkaline, dry or calcareous soil is ideal for planting pomegranate. Hence, growing pomegranate must start with the soil where the seeds are to be planted. It must be a bit alkaline with about 7.5 to 8.0 pH level. Since a lot of planting mediums are made to fall on the neutral variety, the adding up of some small garden lime or limestone should be adequate.
9 Comments
palazhyyy@gmail.com || Import Export Business Consultant
Comment
Categories
Popular Articles